| | | |
| --- | --- | --- |
| Welcome | | You are not currently logged in. |
Auburn Firefighter's Local 797 Website

Welcome to the Auburn, Maine Fire Fighters I.A.F.F. Local 797 Website.
Auburn Fire Fighters are proud members of the International Association of Fire Fighters and the Professional Fire Fighters of Maine.We are dedicated to serving the citizens of Auburn through emergency response as well as charitable giving. The Auburn Fire Fighters Children Fund is responsible for giving thousands of dollars every year to support local children charities.
The City of Auburn employs 60 full time Union fire fighters that man 2 fire engines, 1 tower ladder quint, 2 ALS rescues and a command vehicle, 24 hours a day 7 days a week. Along with fire suppression the fire fighters are trained in EMS, High and Low angle Rescue, Confined Space Rescue, Water Rescue, Ice Rescue, Intrapment Rescue, Disaster Management and HAZMAT response. The Fire Department also provides additional services for example Burning Permits, Blasting Permits, Oil Burner Permits and Occupancy Inspections.
Please contact us if you have any questions about the Auburn Fire Fighters and Local 797. You can use the "Contact Us" button above on the Main Menu. For information on our Childrens Fund Charity use the Main Menu option as well.
If you are interested in donating to either our Local 797 Children's Fund or the Muscular Dystrophy Association (MDA) please use the Main Menu to click on the appropriate group. The pages will have information about that topic and if you were to scroll down on that page you will find a place to donate. All proceeds go directly to the charity.
Facebook Page
You can become an Auburn Fire Department Fan on Facebook!!!
| | | |
| --- | --- | --- |
| | | |
| | | |
| | | |
Auburn, ME I.A.F.F. Local 797 is once again hosting their annual Comedy Show. This is a 21 plus ago show that will have three comedians. The event will be held at the Ramada Conference Center in Lewiston, ME on Friday, June 10. 2016. There are two shows, 7 p.m. and 9 p.m.. Tickets are available at the Central Station on Minot Avenue. All of the proceeds benefit the Children's Fund which supports local kids events. Follow us on Facebook or our Website for more details.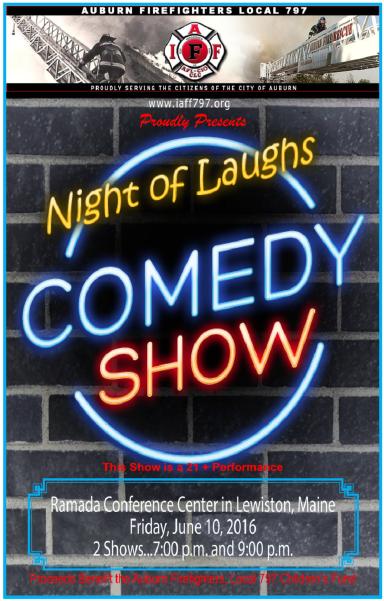 Please come out and help support the 2016 Auburn Firefighters Local 797 Firefighter's Ball. This year's Ball will be held on Saturday March 12th, 2016 at the Hilton Garden Inn Auburn Riverwatch. All proceeds' from this event goes directly to fund Auburn Firefighters Local 797 Children's Fund "Truckload of Christmas". Doors open at 6pm for social hour and dinner will be served at 7pm. This year Skosh will be providing live music. Hope to see you all there in support of "Truckload of Christmas". Read More...
Download:

FFball_16_2 (1).pdf
The Auburn's Local 797 will once again be hosting their annual Comedy Show. This will be occurring on Friday, May 23rd, 2014 at the Ramada Inn Conference Center in Lewiston, Maine. All of the proceeds will go toward children in need, recreational programs, youth scholarships and the many programs supported by the Children's Fund. More detailed to follow and with any questions please feel free in contacting alex@ecmgevents.com.