| | | |
| --- | --- | --- |
| Welcome | | You are not currently logged in. |
Auburn Firefighter's Local 797 Website

Welcome to the Auburn, Maine Fire Fighters I.A.F.F. Local 797 Website.
Auburn Fire Fighters are proud members of the International Association of Fire Fighters and the Professional Fire Fighters of Maine.We are dedicated to serving the citizens of Auburn through emergency response as well as charitable giving. The Auburn Fire Fighters Children Fund is responsible for giving thousands of dollars every year to support local children charities.
The City of Auburn employs 60 full time Union fire fighters that man 3 fire engines, 1 tower ladder, and a command vehicle, 24 hours a day 7 days a week. Along with fire suppression the fire fighters are trained in EMS, High and Low angle Rescue, Confined Space Rescue, Water Rescue, Ice Rescue, Intrapment Rescue, Disaster Management and HAZMAT response. The Fire Department also provides additional services for example Burning Permits, Blasting Permits, Oil Burner Permits and Occupancy Inspections.
Please contact us if you have any questions about the Auburn Fire Fighters and Local 797. You can use the "Contact Us" button above on the Main Menu. For information on our Childrens Fund Charity use the Main Menu option as well.
If you are interested in donating to either our Local 797 Children's Fund or the Muscular Dystrophy Association (MDA) please use the Main Menu to click on the appropriate group. The pages will have information about that topic and if you were to scroll down on that page you will find a place to donate. All proceeds go directly to the charity.
Facebook Page
You can become an Auburn Fire Department Fan on Facebook!!!
Auburn's IAFF Local 797 has teamed up with the MDA for a fundraising event called "Pigs & Pints". This event will be held at the Fire House Grille located at 47 Broad Street in Auburn Maine. The event is on Sunday, September 8th from 1300 to 1800. All proceeds go to the MDA including T-Shirt sales!!!! At this event, there will be a pig roast with some sides, 6-8oz sample of Shipyard's beers including Pumpkinhead and an IPA, and live entertainment by the band "the Veggies". We will be selling t-shirts for $18 and having a "fisherman's auction" there as well. If you want to come and support this fundraiser it is $25 a ticket, 21 plus event. A credit card machine will be at the event to purchase T-Shirts and raffle tickets as well as additional purchases of some beverages. If anyone has questions or would like some tickets let me know.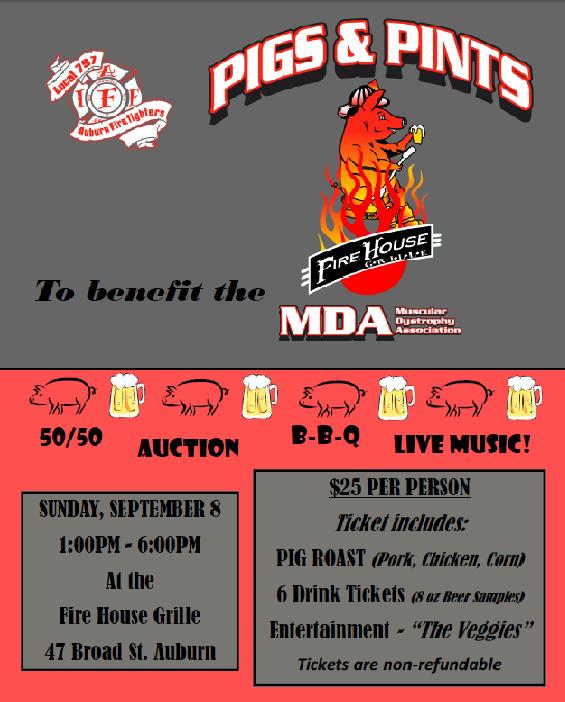 Also visit: MDA Website
Download:

Pigsand Pints.pdf